Tenuta Chiudendone
The ideal place to immerse yourself in the beauty of the hills of Pisa and enjoy an unforgettable experience.
In the heart of Tuscany, our estate is surrounded by breathtaking landscapes and a rich wine and food tradition.
Here, you can discover the authenticity of country life, breathe fresh air, and immerse yourself in the serenity of a natural environment.
Our guests will have the opportunity to savor the genuine flavors of Tuscan cuisine. Fresh and organic products, cultivated directly on our estate, are transformed into exquisite dishes that will delight you with their authentic tastes and irresistible aromas.
Get ready to live an unforgettable experience and create lasting memories.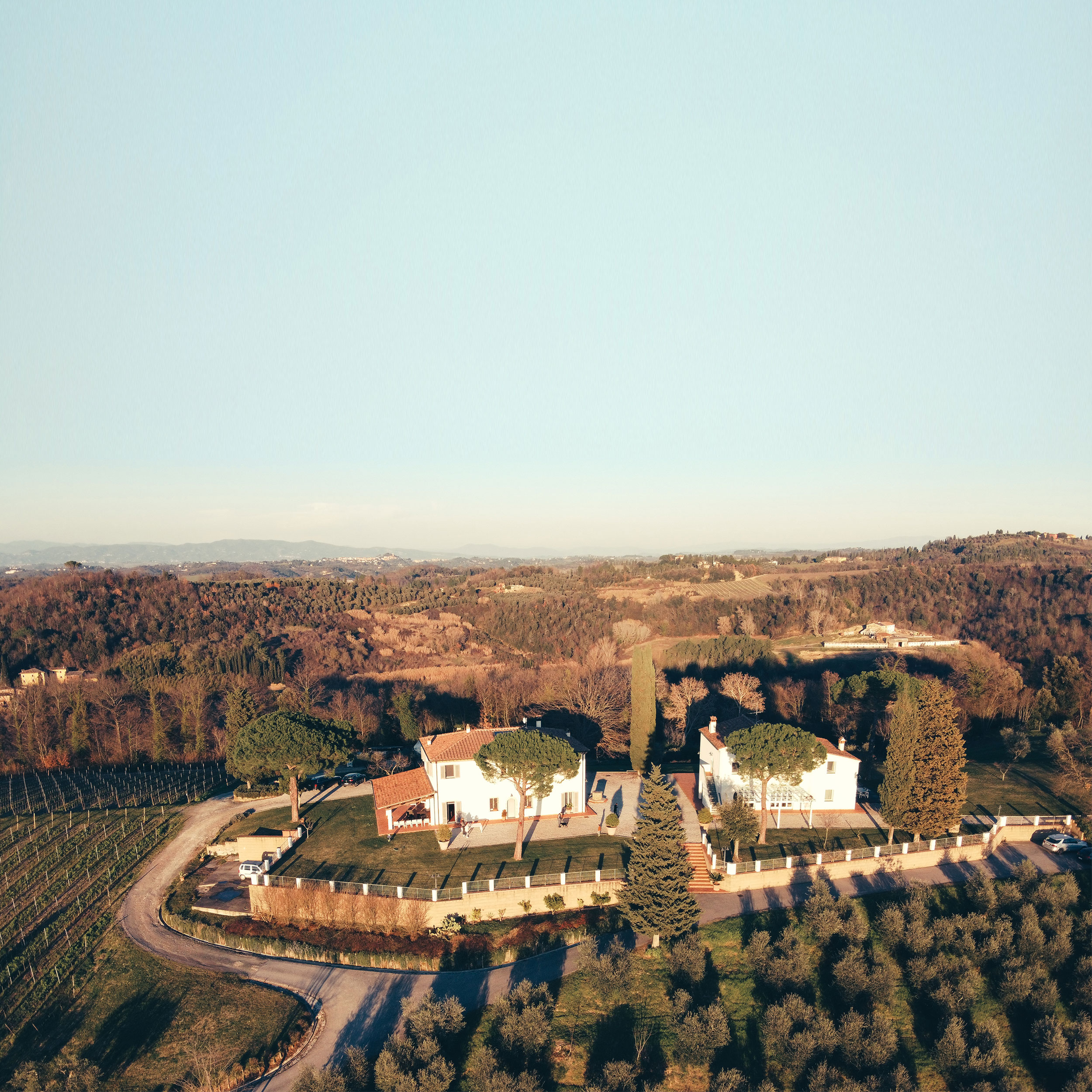 Welcome to our enchanting Tenuta, where two charming villas await your arrival. Our home is nestled in one villa, while the other villa is divided into two spacious and beautifully appointed apartments.
The ground floor apartment is called Amedeo Modigliani, has direct access to the garden and a dreamy kitchen with brick ceilings. The upper floor apartment is called Giacomo Balla, it has amazing views on the Tuscan hills and is full of sun and light.
Both apartments offer a dedicated furnished space in the garden, perfect for enjoying delightful "alfresco" dinners. Imagine savoring your meal surrounded by nature's embrace, creating memories that will last a lifetime.
During your stay, take the time to unwind and relax in our lush garden or take a refreshing dip in the pool and walk around our vineyards and olive trees.
There is also a beautiful walk in the wood that brings you to a remote little Church, that place holds a special place in our hearts.
Book your stay with us and immerse yourself in an unforgettable retreat.
THE YEAR AROUND TENUTA CHIUDENDONE
A visit in Tuscany is always a good idea!
In Autumn you can join us for white truffle hunting and discover more about the white truffle that only grows from October to December. We can spend time in the garden and get fascinated by the amazing orange colors of the trees in the countryside, you can taste the freshly pressed olive oil and help us with the olives picking!
In Winter enjoy the crispy morning air with beautiful walks, stay inside and get cozy with the fireplace and enjoy with our chef a typical Tuscan meal and our delicious red wine.
In Spring, the nature is waking up, lots of flowers and beautiful green trees will welcome you! Our kitchen garden is full of artichokes, green beans, salads and more. Join us for the farm experience and cook with us our favourite dishes.
In Summer, the pool is the queen, enjoy long aperitif with our Rosé wine, beautiful sunsets and relax in the salted water of the pool. Have a walk in the vineyard, try the grapes and figs and get ready to help us with the grapes harvest!